Cider-Braised Chicken and Apples with Caramelized Onions
Serves: up to 4 | Cooking time: 2 hours
Recipe by Brooklyn Supper for Farmer Focus.
"With crisp, golden skin and succulent meat, cider-braised chicken with apples, herbs, and caramelized onions makes for a classic autumn meal. The hard cider-infused braising liquid doubles as a flavorful sauce, so you'll want to serve the chicken thighs a whole grain like freekeh or farro to capture all the delicious flavors."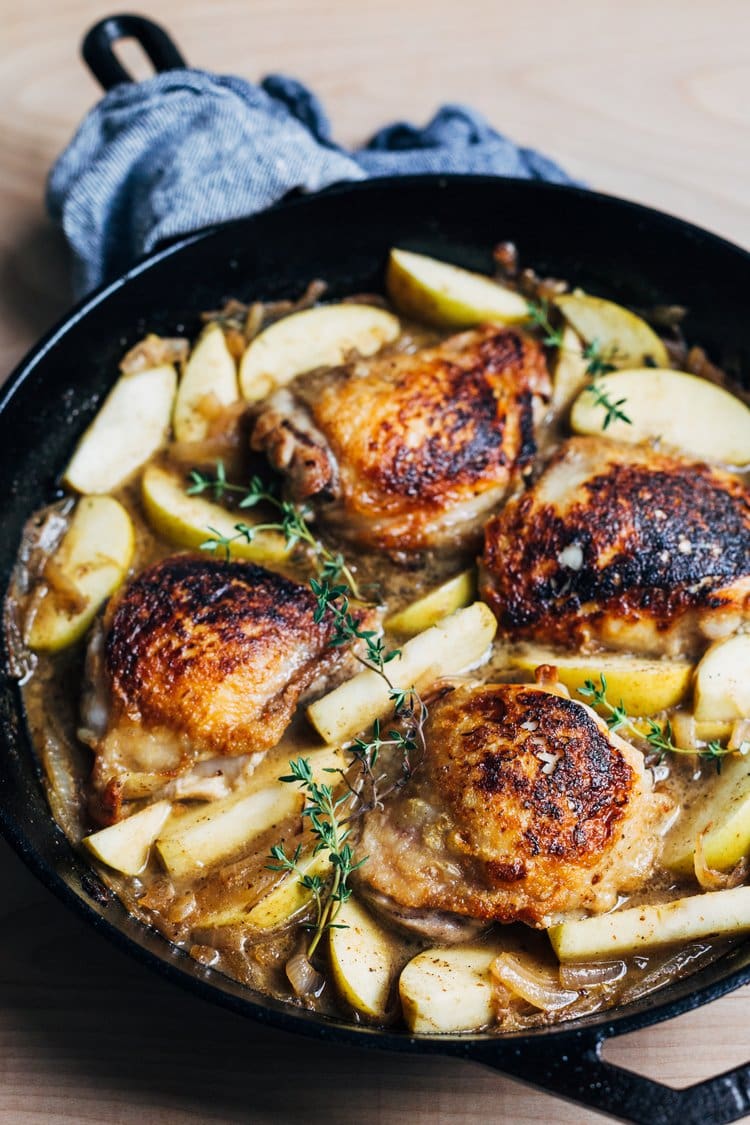 INGREDIENTS
Caramelized Onions
2 tablespoons unsalted butter

1 yellow onion, sliced into paper-thin rounds

1 bay leaf

1 sprig thyme

Sea salt
Braised Chicken
1 pack Farmer Focus chicken thighs

1 teaspoon sea salt

1 tablespoon canola oil

1 yellow onion, halved and thinly sliced

1 tablespoon Dijon mustard

2 cups 1/2-inch thick sliced apples

(select crisp, not-too-sweet varieties)

12 ounces hard apple cider

(preferably a dry variety)

1 - 1 ½ cups low-sodium chicken broth

(store bought or homemade)
---
FEATURED PRODUCTS
INSTRUCTIONS
At least an hour, but up to a day ahead of time, sprinkle the chicken on both sides with sea salt and set back in the fridge.

Preheat the oven to 350 degrees F.

To make the caramelized onions, set a small skillet over medium heat. Melt the butter and then fold in the onions along with a pinch of sea salt and the herbs. Cook just until onions start to sizzle. Turn heat down to low, and stirring frequently, continue cooking onions for about 45 minutes, or until they're a nice golden hue and taste sweet. Add a pinch or two of sea salt to taste.

To make the braise, set a 10-inch cast iron skillet or other large, heavy bottomed pan over medium-high heat. When the pan is hot, add the canola oil and then chicken, skin side down. Cook for 3 – 4 minutes, or until chicken skin is a deep golden hue. Flip and cook 4 minutes longer. Edge heat down slightly if the oil starts to pop. Remove chicken from pan and turn heat to medium and pour off all but 2 tablespoons fat.

In the same skillet, add the onion, and cook until translucent, 5 – 7 minutes. Fold in the mustard and the apples, and cook 5 minutes more, just until apples have softened a little bit. Add the cider; use a wooden spoon to scrape up any brown bits. Tuck the chicken thighs, skin side up, among the apples. Tuck the thyme sprigs and bay leaf around the chicken. Gently pour in 1 cup broth. The idea here is to have only the bottom half of the chicken submerged, so only add as much as you need.

Carefully set skillet in the oven. Let the chicken braise, uncovered, for 35 minutes. If the chicken skin start to get too brown, tent it loosely with foil. Using hot pads, remove the pan from the oven and check that the chicken has reached 165 degrees. If the meat isn't yet pulling away at the bone, set back in the oven and cook 10 minutes more.

Serve chicken thighs over a whole grain like freekeh or farro. Top with caramelized onions and several spoonfuls of the apples and braising liquid. Garnish with fresh herbs.
MORE FROM Brooklyn Supper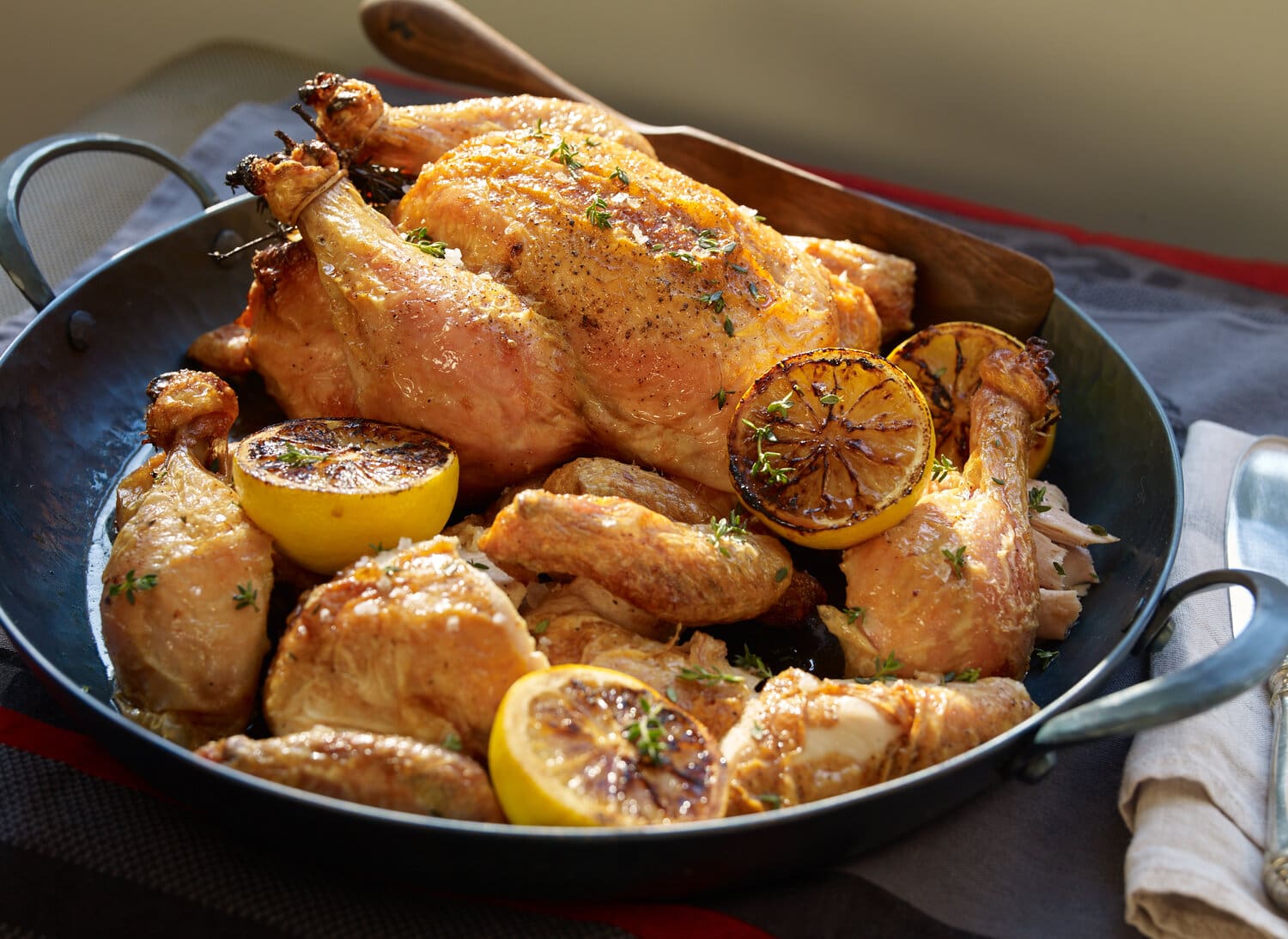 Recipe developed by Chef Michael Symon exclusively for Farmer Focus! Print Recipe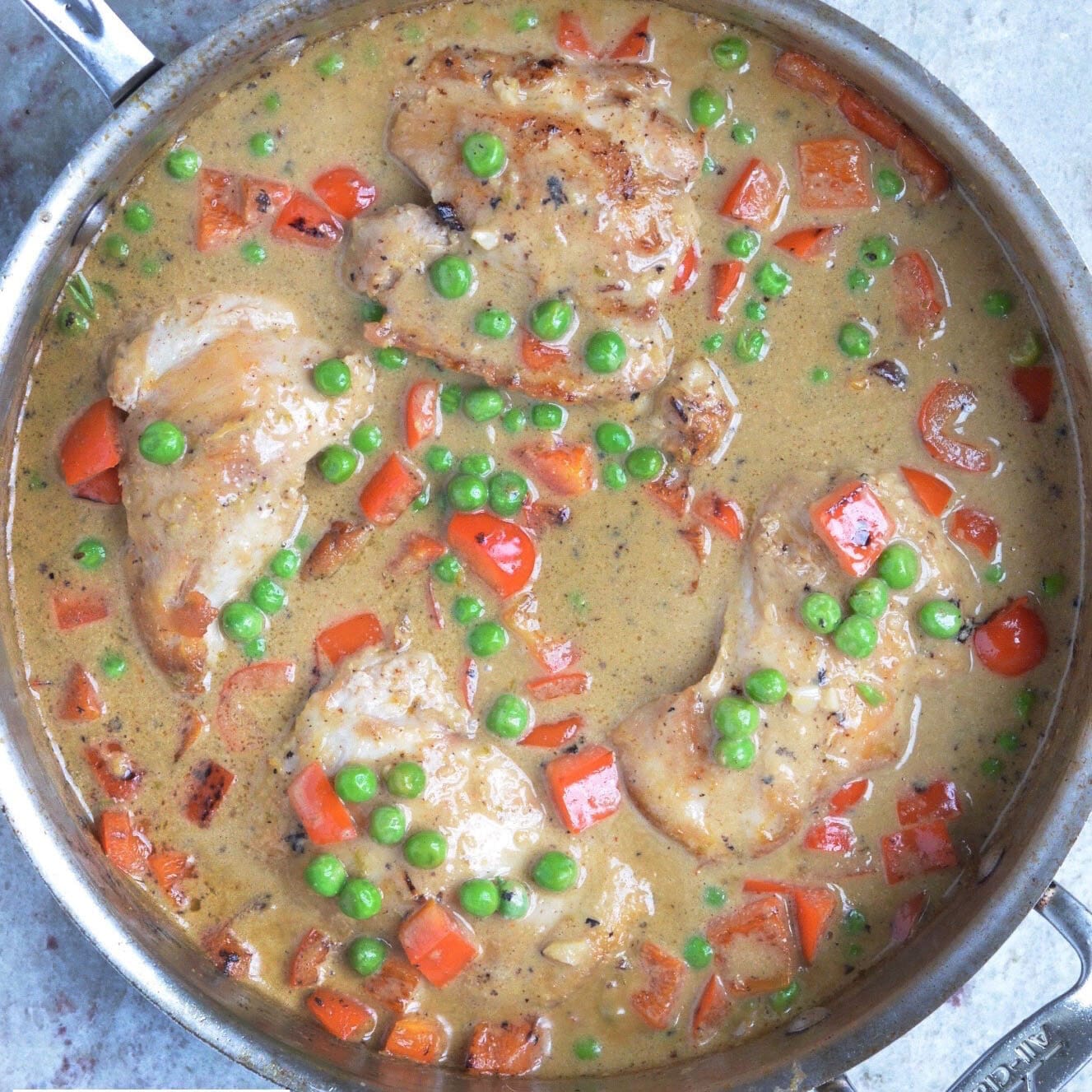 Developed by Lisa Leake exclusively for Farmer Focus! "Easy one-dish dinner that's allergy-friendly! It's dairy-free and, if you use gluten-free soy sauce, also gluten-free. Plus, you can make it all in one pan, and it's great leftover."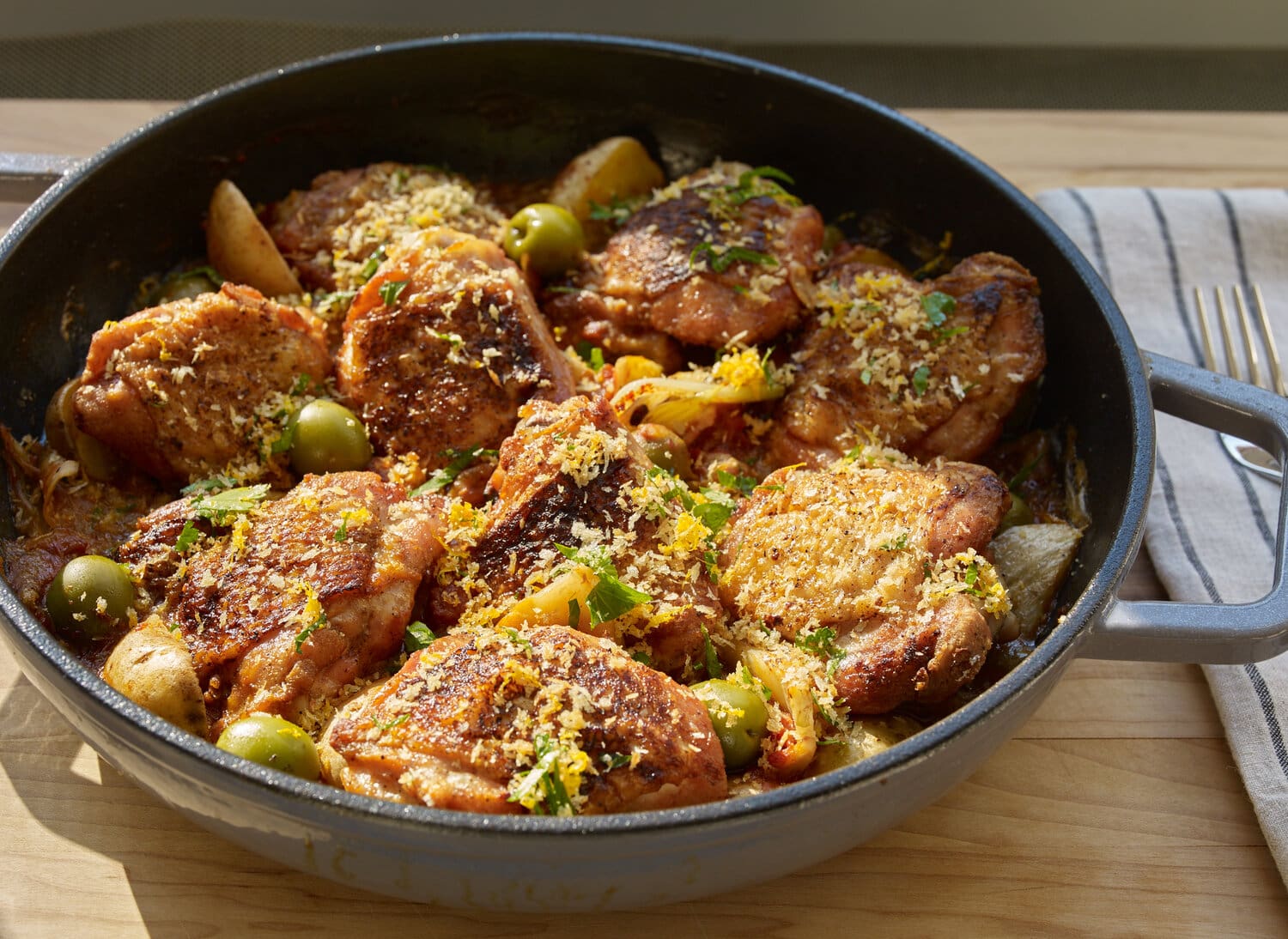 Recipe developed by Chef Michael Symon exclusively for Farmer Focus! Print Recipe