Chicken House doors
Peyton and Ally open the doors along the chicken house at 6:30 AM for chickens to come out to pasture for the day.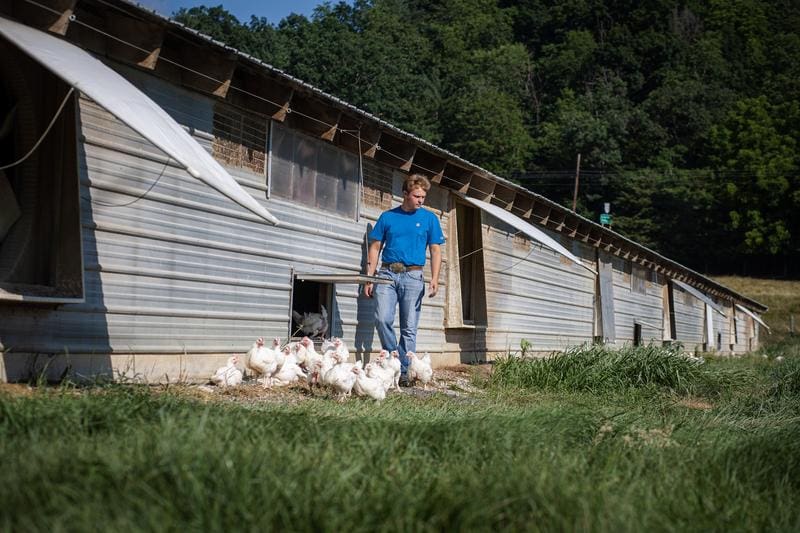 What's Inside?
Chickens have more space on average than conventional house. Chickens have access to fresh feed and water, natural light, enrichments, and ventilation/air system to keep high air quality indoors.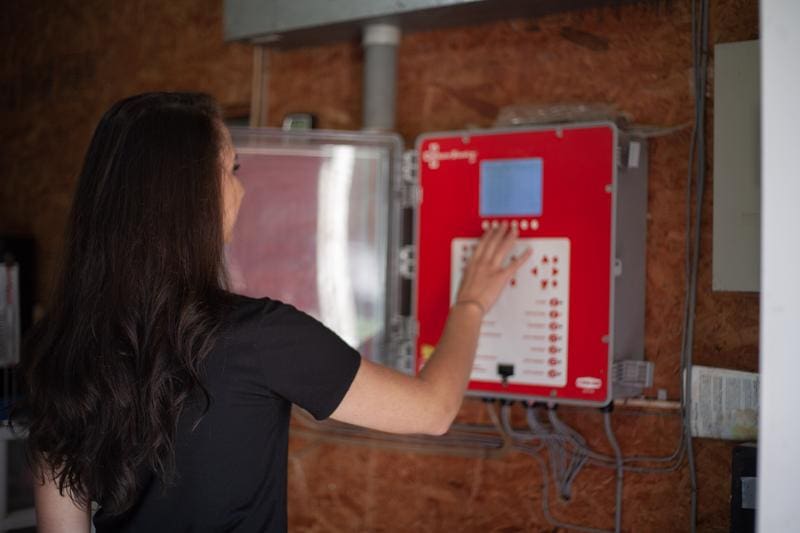 Technology on the farm
This computer tracks how much water chickens are drinking daily and controls the temperatures. Farmers can download an app on their phone to get live updates throughout the day.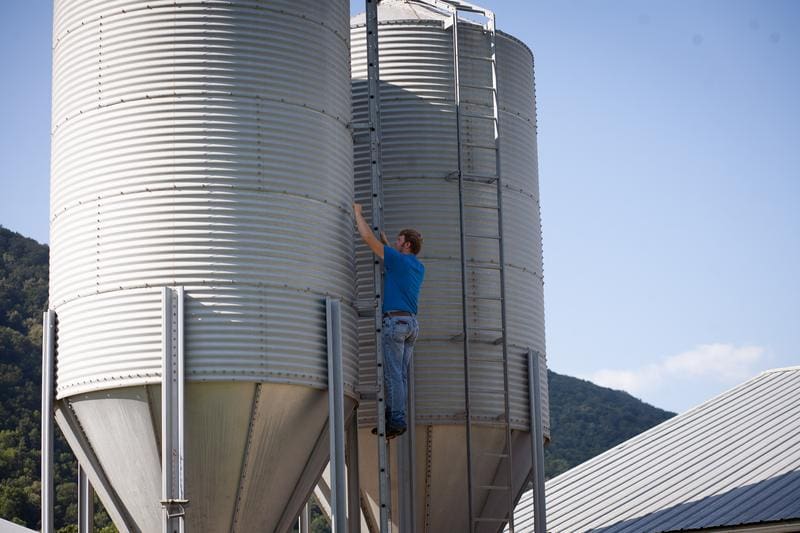 Checking Feed Bin levels
Chickens eat a non-GMO, USDA organic corn and soy feed in addition to what they may have in pasture. As chickens eat, the feed bin keeps supplying them fresh feed for their energy and growth.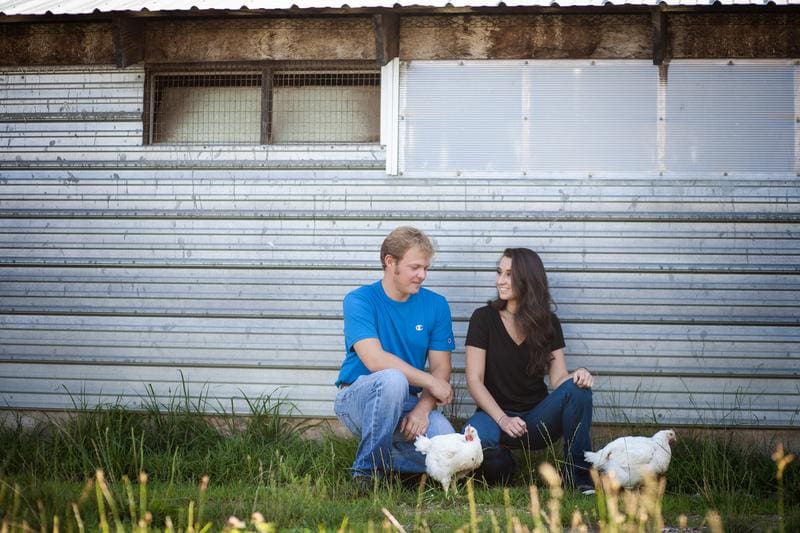 Sun outside, sun inside
Humane standards require our chickens to have access to natural light. Every FF farmer installs "windows" alongside their house for light access indoors.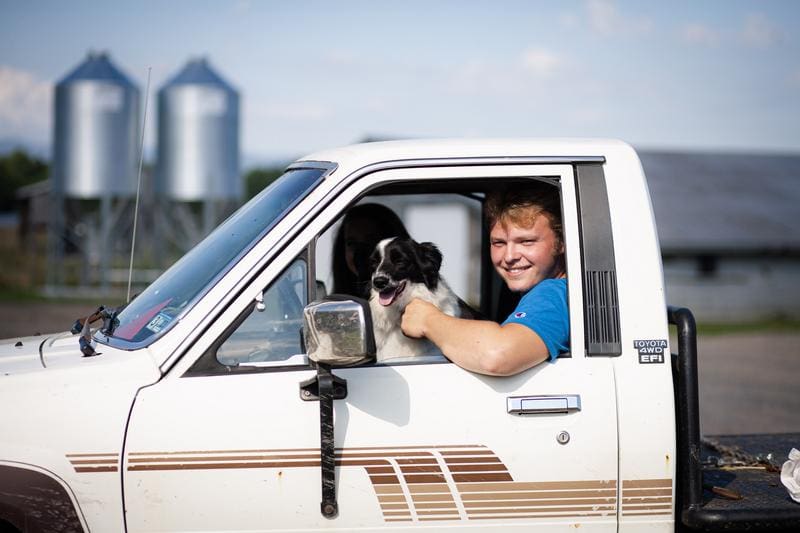 Frosty the Border Collie is described as the "pet" on the farm.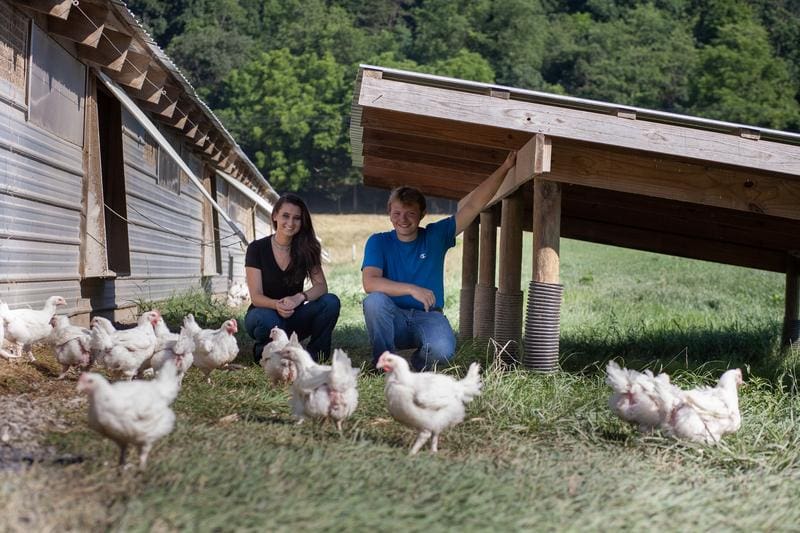 About the farmer…
If you drive along the North Fork of the Shenandoah River toward West Virginia, you'll pass one gorgeous and fertile farm after another. That's where you'll find Peyton Fravel's farm. Owned and operated by a young entrepreneurial couple, the farm sits against a dense backdrop of stately hardwoods, and along with a list of dogs that reads like Santa's reindeer (On Roxie, on Sage, on Frosty and Rose, now Lefty, now Poncho…), they raise chickens, beef cattle, corn, and hay.
While Peyton runs the day-to-day of caring for the chickens and cattle, Ally helps with the evening walk-throughs after she gets off work. From the arrival of the first chick to seeing months of hard work paying off in a healthy and happy flock, Peyton appreciates the sustainability Farmer Focus has brought to his business. Having learned the trade from his grandfather, Peyton wants to be sure his farm is around for generations.
Ask A Farmer
If you weren't a farmer, what would you be?
I attended auctioneer school so I would probably be a livestock auctioneer.
What's your favorite time of day on the farm?
First thing in the morning when the sun is coming up makes for a good start to every day.
What is something you are proud of?
Owning a farm at a young age (19 years-old)
Who did you learn the most about farming from?
why farmer focus?
We believe in farming the right way, see what the Farmers Focus difference is.
Learn More