More news to celebrate! Farmer Focus has been approved as a Sustainability Partners participant in the Virginia Environmental Excellence Program (VEEP), and man, has it been a long time coming! After four years of steady improvements to our policies and practices, we've demonstrated environmental sustainability to a degree that deserves recognition, and we are just tickled! But what does all this mean?
The VEEP Sustainability Partners program encourages organizations across Virginia to make environmental sustainability part of their culture through leadership, innovation, and continual improvement. Some of the current partners are working on goals like reducing greenhouse gases, picking up literally tons of litter, creating a native plant meadow, and developing outreach aimed at youth, among many other initiatives. The results these partners report are benefits like energy and monetary savings, lots of recycling, reductions in harmful emissions, more trees, and stream restoration. Over the past four years, we've been working on ten goals. Reusing chicken litter and composting are our current top priorities. Both projects aim to conserve water and protect the Chesapeake Bay Watershed from pollution. We're creating a machine that will run through a chicken house, heat the existing litter enough to kill pathogens, and lay down the newly conditioned bedding for the next flock. Also, we're figuring out a better way to deal with the waste left over from water treatment. We aim to compost all our waste and convert it into safe fertilizer.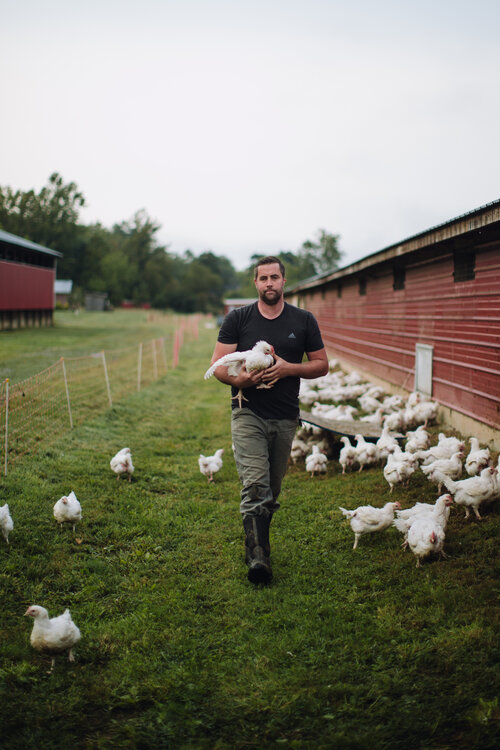 But we did a lot more than that to earn this designation. We also partnered with Farm Aid to promote and protect generational farming. We believe in the same idea that Farm Aid states in its mission: to keep family farmers on the land. Many of our farmers grew up on family farms, some of which are several generations old. This legacy of farming, providing sustenance and security, is composed of countless important stories of hard work, determination, pride, and generosity.
Helping a high school student with their presentation about a local business and our new internship program that pairs a college student with our Environmental Health & Safety Manager bring refreshing creativity to Shenandoah Valley Organic, and we hope to build more of these partnerships in the future.
Even though we've been acknowledged by the Department of Environmental Quality, our work is just beginning. We have much to learn and many ways to grow, and as the climate continues to change and new challenges emerge, so will our strategies for reaching our goals. Thank you for supporting our journey!