The Juiciest Air Fryer Chicken Breast
Serves: up to 4 | Cooking time: 20 minutes
Recipe by Lexi's Clean Kitchen for Farmer Focus.
"Are you ready for the easiest and juiciest chicken breast? This Air Fryer Chicken Breast recipe is fool-proof, bursting with flavor, and the easiest way to get a chicken dinner on the table any night of the week!"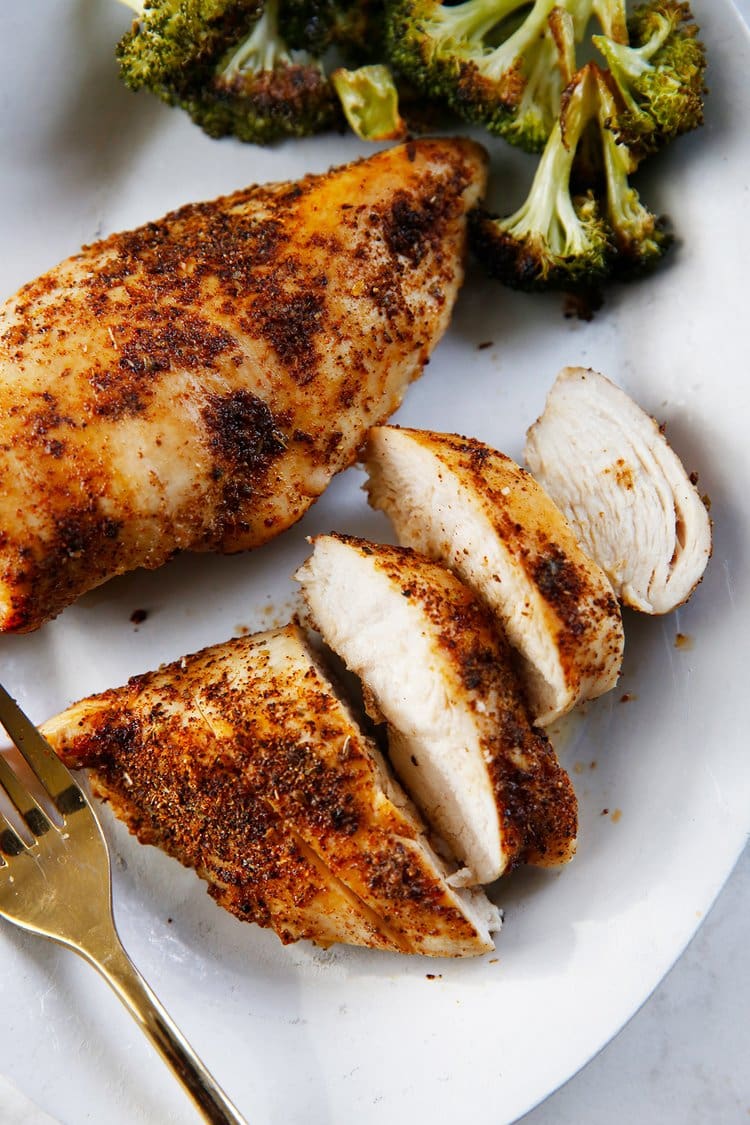 INGREDIENTS
Boneless Skinless Chicken Breast

You'll see below on the proper cook time for various sizes, my favorite chicken to buy, and many more tips to ensure the most tender chicken breast ever!

Oil of Choice

I use avocado oil or olive oil here.

Seasoning Blend

I use a quick blend of garlic powder, chili powder, paprika, oregano, salt and black pepper for a delicious seasoned chicken breast.
---
FEATURED PRODUCTS
INSTRUCTIONS
HOW LONG TO COOK CHICKEN BREAST IN AIR FRYER
So the goal of cooking chicken breasts in the air fryer is to cook them just right, quickly, without much oil, and get the most perfect juicy and moist chicken breast! You don't want to overcook them as that can mean dry chicken. You don't want to undercook them, because that, of course, means raw chicken.
We always suggest using an instant-read thermometer (we love our Thermapen) to check the temperature of meat, but the goal is to get the chicken cooked to 165º. And the biggest indicator of proper cooking time for air fryer chicken breasts is the size of the chicken breasts!
Size Matters!
Chicken breasts these days can range in size anywhere from 9 ounces to more than 14 ounces! The actual time needed in the air fryer will depend exactly on how large your chicken breast is. Our best tip is that if you are cooking more than 1 chicken breast at a time, try to make sure they are all similar sizes.
We recommend weighing the largest one before determining the amount of time needed. It is not the cumulative weight of all of the chicken breasts, but just the weight of the largest one that determines the number of minutes needed.
Cooking Time as Determined by Weight
As mentioned above, how long it will take to cook chicken in the air fryer will vary based on the size of your chicken breasts. Keep in mind that you will need to flip the chicken halfway through cooking!
Small Breasts that are roughly 5 to 7 ounces: 7 to 10 minutes

Medium Breasts that are roughly 8 to 10 ounces: 10 to 13 minutes

Large Breasts that are 11 ounces or more: 14 to 18 minutes
As all meat does, the chicken will continue to cook while it is resting, and this is a good thing. After the chicken has finished cooking, check the temperature. It should ideally be around 155ºF or 160ºF.
Let the chicken sit for an additional 5 minutes. The temperature will continue to rise as the chicken rests. Double-check one more time that the temperature has risen to 165ºF after it has rested! Then you are ready to eat!
Quick Tip: If for some reason the chicken is below 155ºF once it has finished cooking, you can close the lid and cook the chicken for 2 more minutes.
For sure it's a delicate balance when cooking chicken between making sure it's fully cooked, but not overcooked!
HOW LEXI BRINES CHICKEN BREAST
If you've made my Thanksgiving Turkey (with Herbs and Citrus), you know I am a big fan of a dry brine over a wet brine. When thinking about making simple air fryer chicken breasts for a weeknight dinner or meal prep, a wet brine was a big no for me! I can achieve the same juiciness with a dry brine, and it's way easier and less messy!
A quick dry brine for your chicken (it's easy!)
Pat your chicken dry
Place your chicken in a small bowl
Sprinkle it with salt on both sides
Place in the refrigerator for at minimum 30 minutes
MORE FROM Lexi's Clean Kitchen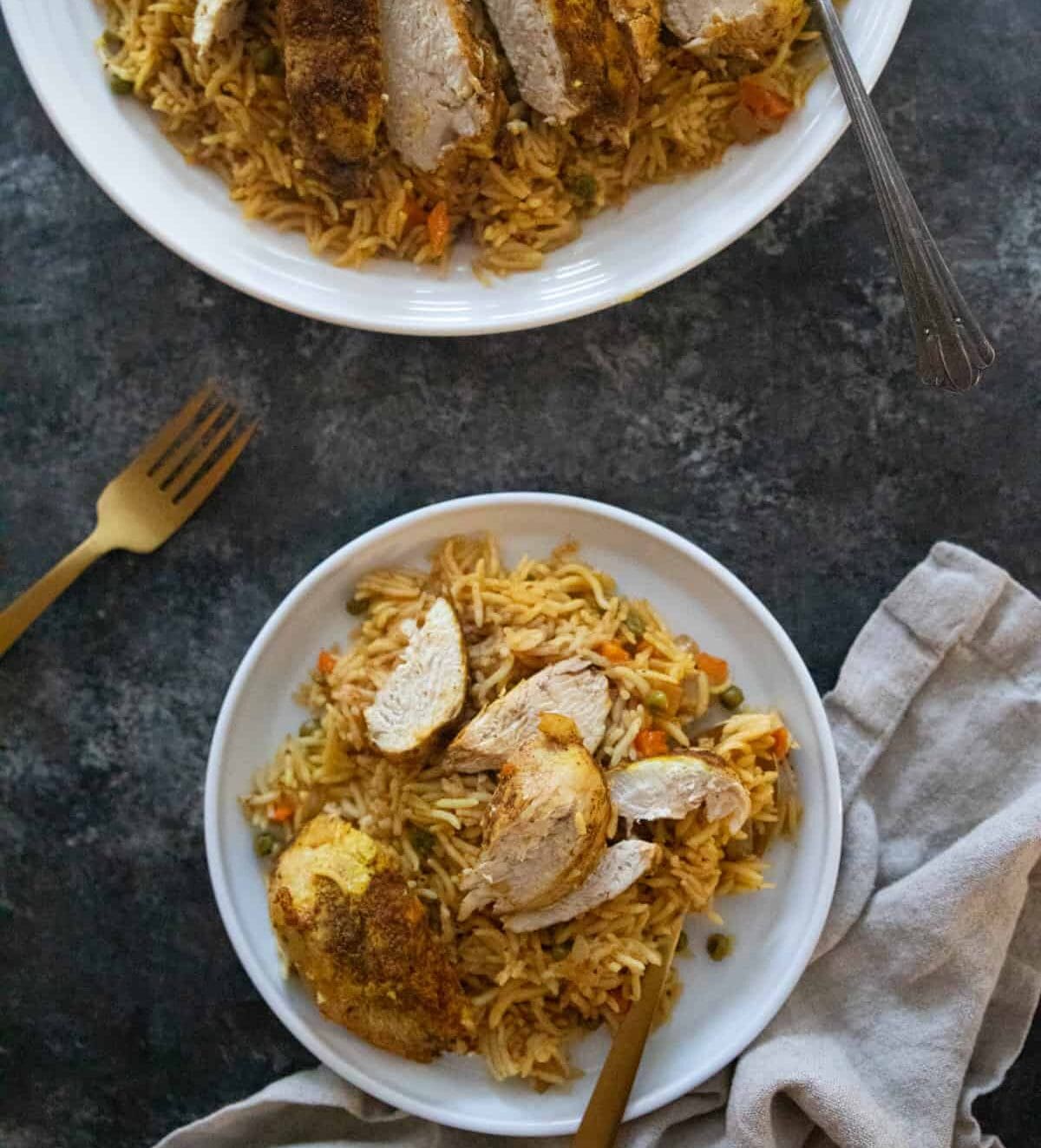 Made in Partnership with Unicorns In The Kitchen Celebrate Ramadan and Eid with Halal Certified chicken from Farmer Focus. "This Middle Eastern one-pan chicken and rice recipe is one of our family favorites. The chicken is seasoned with warm spices, and the rice is fluffy and tender."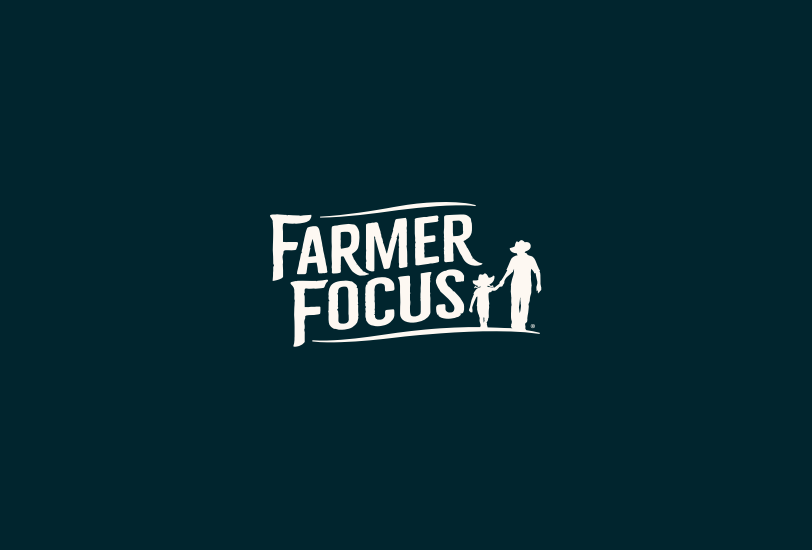 Step up Game Day with high-quality ingredients like Farmer Focus Organic Chicken Breast, Niman Ranch© Bacon, and Organic Valley©. This dip has just the right amount of heat paired with a cool ranch finish. Need some inspiration for what to dip in your dip? We've got you covered. baby carrots celery Siete© tortilla chips *gluten-free Crackers baguette