Chicken Skillet Combo
Serves: up to 2 | Cooking time: 2 hours
Throw it all together and serve directly from your cast-iron skillet.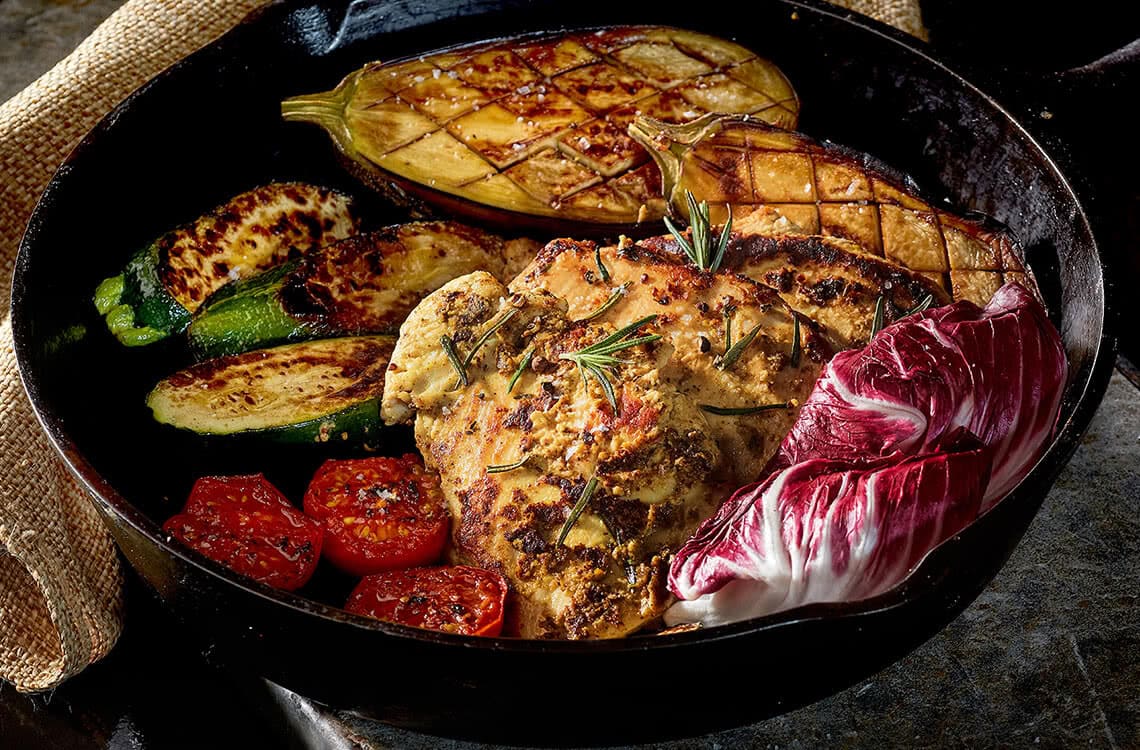 INGREDIENTS
1 Whole Farmer Focus Boneless-Skinless Chicken Breast, halved, pounded to 3/4 inch

4 Tablespoons olive oil

2 Tablespoons dijon mustard

Fresh rosemary, 2 sprigs

2 Baby eggplants, halved lengthwise

2 Small zucchini, halved lengthwise

2 Vine ripened tomatoes, halved lengthwise

Salt, pepper to taste

4 Slices mozzarella cheese

4 Radicchio leaves
---
FEATURED PRODUCTS
INSTRUCTIONS
Marinate the chicken
Combine marinade in a small bowl – 4 teaspoons olive oil, 2 tablespoons mustard, and rosemary; put in a plastic bag, add chicken breasts, and distribute the marinade with your fingers. Refrigerate for 1 – 4 hours.
Prep the vegetables
Score the eggplant halves in a diamond pattern, sprinkle lightly with salt, put cut-side down on a plate and set aside.
Brush the cut sides of the zucchini and tomatoes – each with 1 teaspoon of olive oil, and set aside.
Put a slice of mozzarella on each radicchio leaf, fold the leaf into a package, brush with the remaining 2 teaspoons of olive oil and set aside.
Heat the skillet; grill veggies and chicken
Heat a large cast-iron skillet over high heat for 5 minutes.
Remove the chicken from the refrigerator. With a paper towel, pat the eggplant halves dry, brush with 1 tablespoon of olive oil, and put into the skillet. Cook, turning until they are soft and nicely browned, about 10 minutes. Remove to a platter.
Put the zucchini in the skillet and cook, turning until nicely browned, 3 – 4 minutes. Remove to platter, season with salt and pepper to taste.
Put the tomatoes in the skillet, cut sides down and brown for about a minute, Remove to the platter and season to taste.
Put the chicken breasts in the skillet, marinade should be generous; cook for 2 minutes, turn and cook 1 minute or until nicely browned on both sides. The marinade will become a golden crust. Remove to the platter.
Put the radicchio leaves in the skillet, seam side down, cook for a minute on the first side, turn them.
Remove the skillet from the heat, arrange the chicken breasts with the vegetables around them and serve.
MORE FROM Farmer Focus Recipes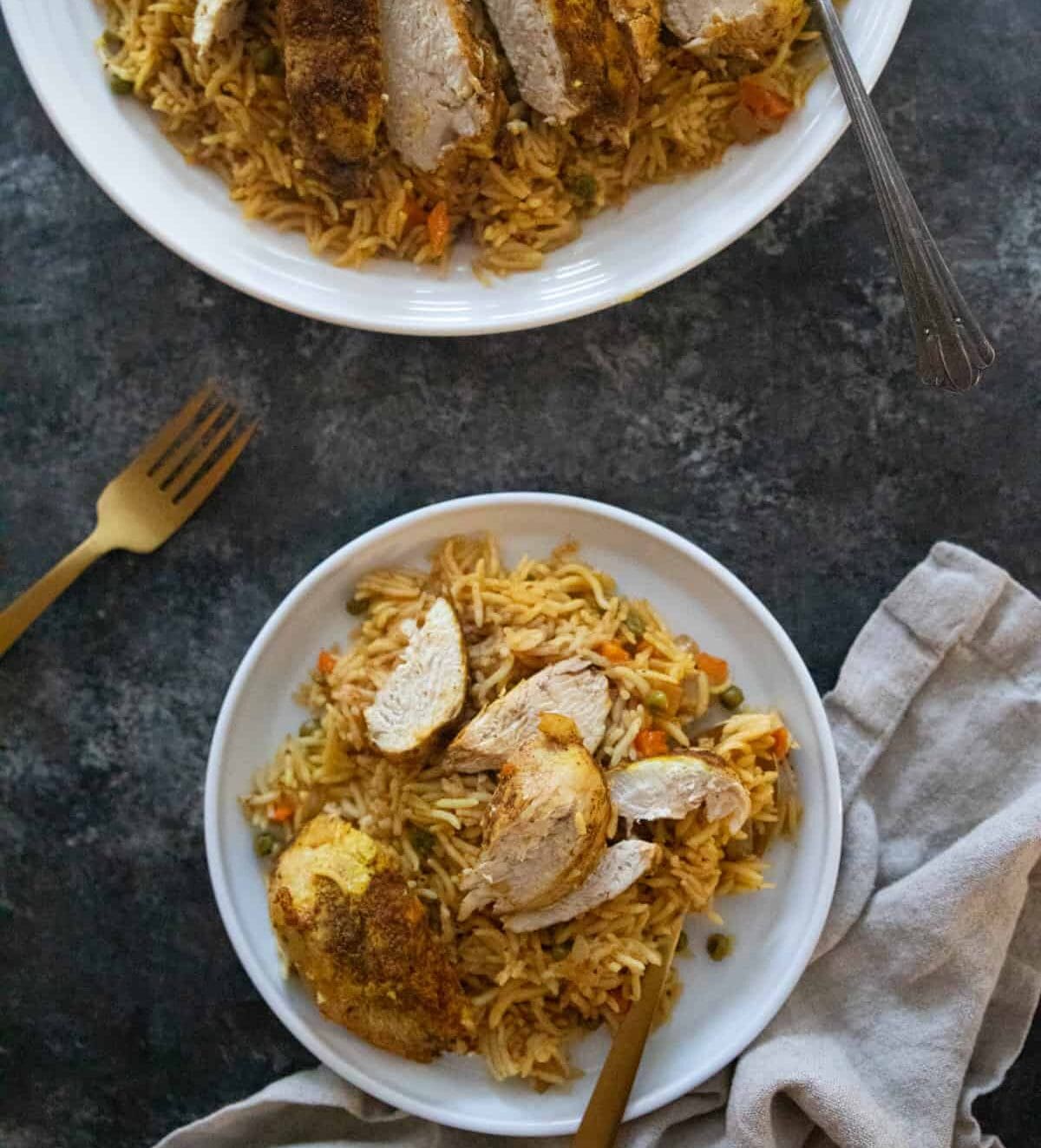 Made in Partnership with Unicorns In The Kitchen Celebrate Ramadan and Eid with Halal Certified chicken from Farmer Focus. "This Middle Eastern one-pan chicken and rice recipe is one of our family favorites. The chicken is seasoned with warm spices, and the rice is fluffy and tender."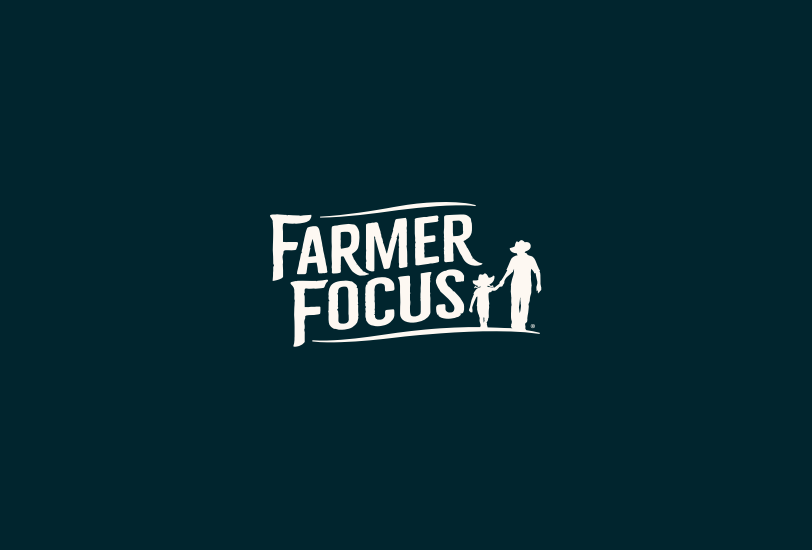 Step up Game Day with high-quality ingredients like Farmer Focus Organic Chicken Breast, Niman Ranch© Bacon, and Organic Valley©. This dip has just the right amount of heat paired with a cool ranch finish. Need some inspiration for what to dip in your dip? We've got you covered. baby carrots celery Siete© tortilla chips *gluten-free Crackers baguette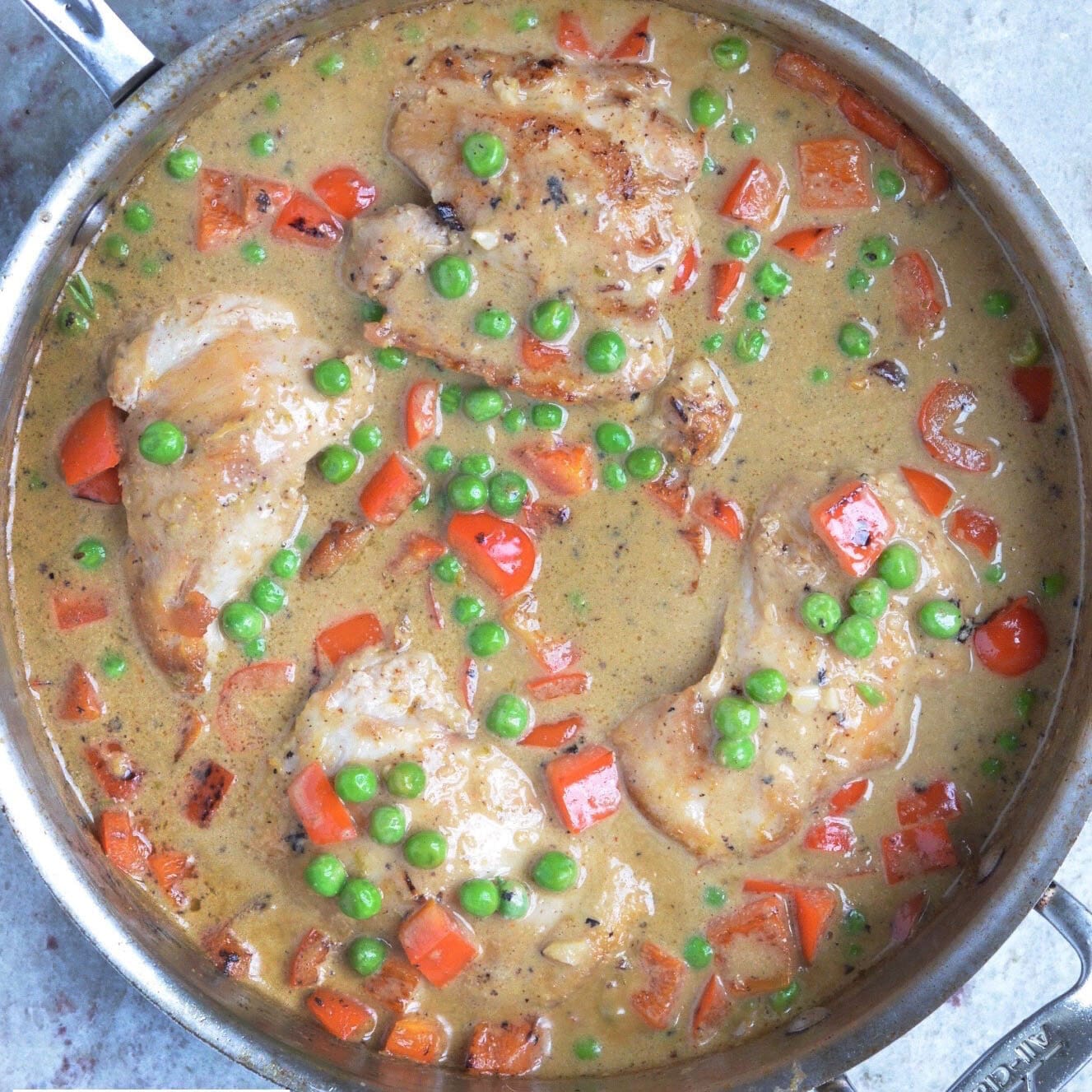 Developed by Lisa Leake exclusively for Farmer Focus! "Easy one-dish dinner that's allergy-friendly! It's dairy-free and, if you use gluten-free soy sauce, also gluten-free. Plus, you can make it all in one pan, and it's great leftover."