At Farmer Focus we don't just say we empower family farmers, we do it. That's why we recently submitted comments to the USDA on the actions we believe are needed to support independent farmers.
The Farmer Focus business model gives farmers ownership and empowers them to make better choices for their animals, farms, and the environment. Today we serve over 70 family farmers and we have more than 100 farms on our waiting list. Farmers want to farm with us because we do business differently. We may have farmers waiting to join our team, but we will not wait to promote and protect their interests.
1. Independent Farmers Need Independent Suppliers
We believe farmer ownership of feed and birds purchased from independent suppliers is essential to fair competition. Most chicken farmers today don't even own the birds or the feed on their farms, those things are supplied to them by large "integrators" who control the entire supply chain from start to finish. This offers farmers little to no control over the quality of bird or feed they receive, two of the most important inputs in raising healthy birds.
Independent hatcheries and feed mills that supply farmers are becoming less common; this is a problem for smaller farmers as it drives up grain costs and makes it increasingly hard for them to secure eggs from hatcheries.
We support USDA policy that supports more competition in farm inputs and relieves the financial burden of loss of choice for small farmers.
2. Fair Pay
The Farmer Focus business model provides clear and transparent payment terms. We do this so that all of our farmers know their commitment and understand the risk vs. reward. Due to our unique business model, our farmers report that they make between 25-35% more farming with us than competitors. In a traditional model, farmers would compete against one another flock after flock for pay. In that model, someone wins, and many lose.
Farmer Focus built a system that allows our farmers to work together, driving innovation and supporting our farmers' desire to raise the best chicken possible. One of the largest burdens for our farmers is the entry cost to ownership. Due to our unique and organic model, it's harder for our farmers to secure lending from banks and the USDA. We support legislation that would ease the entry-level burden for small farmers and provide USDA support for research on alternative farm models like ours.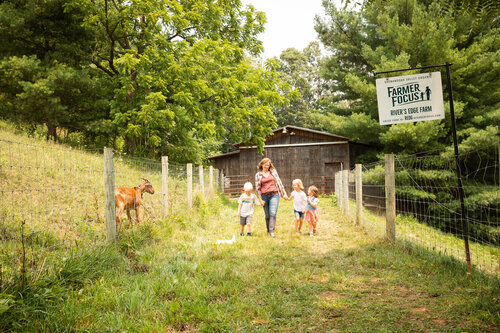 Like every business, recruitment and retention of employees in agriculture present challenges. It takes over 500 employees for us to support our current farm families. To further support our farming model, we need to meet our workforce needs in rural areas. Farmer Focus supports the policy that further develops USDA loans for housing in rural, low-moderate income communities. Additionally, we believe that USDA support for further training agriculture workers can have an oversized impact in these rural communities. We believe USDA support for programs that provide access to leadership training and management development in agriculture is direct support for farmers.
3. Sustainability & Transparency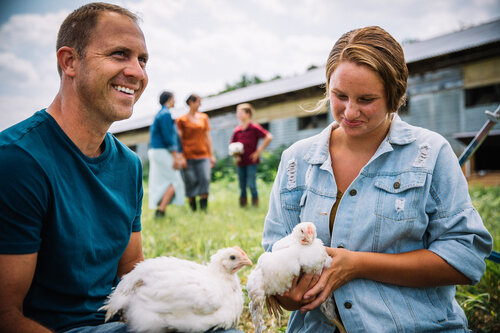 We also believe the future of farming is sustainable. Protecting the environment means protecting our farmers' ability to farm. That's why we practice enhanced animal welfare on farms, reduce waste in our production facility through water and waste recycling, and are developing climate resiliency through new technologies. Our goal is to become a net carbon sink, using less carbon than we emit as we grow.
We support USDA policy that helps grow organic grain production on US farms. There is currently a 2-year downtime for farms switching to organic with no financial support during that down period. Supporting organic grain production in the US is essential to cutting the carbon footprint of imported grains.
At Farmer Focus we offer transparency in every package of chicken through our Farm ID system that allows you to trace your product back to the farmer that raised it. We support label clarifications from the USDA on labeling such as "Product of the USA" and "Family Farms". We are working to build a company that can be trusted by farmers, customers, and the stores that carry our products. Those looking to use loose label guidelines to deceive are doing so at the expense of independent farmers.
To view our USDA comments in full and learn more, visit: https://www.regulations.gov/comment/AMS-TM-21-0058-0443

Corwin Heatwole, Founding Farmer & CEO