Roasted Sheet Pan Half Chicken with Brussels Sprouts and Gravy
Serves: up to 2 | Cooking time: 40 minutes
Recipe by Brooklyn Supper for Farmer Focus.
"A Thanksgiving feast for two, featuring recipes for sheet pan half chicken with roasted Brussels sprouts and onions, and a simple gravy made with the pan drippings. Serve with mashed potatoes and mac and cheese, and you have the perfect Thanksgiving for two (with plenty of leftovers!)."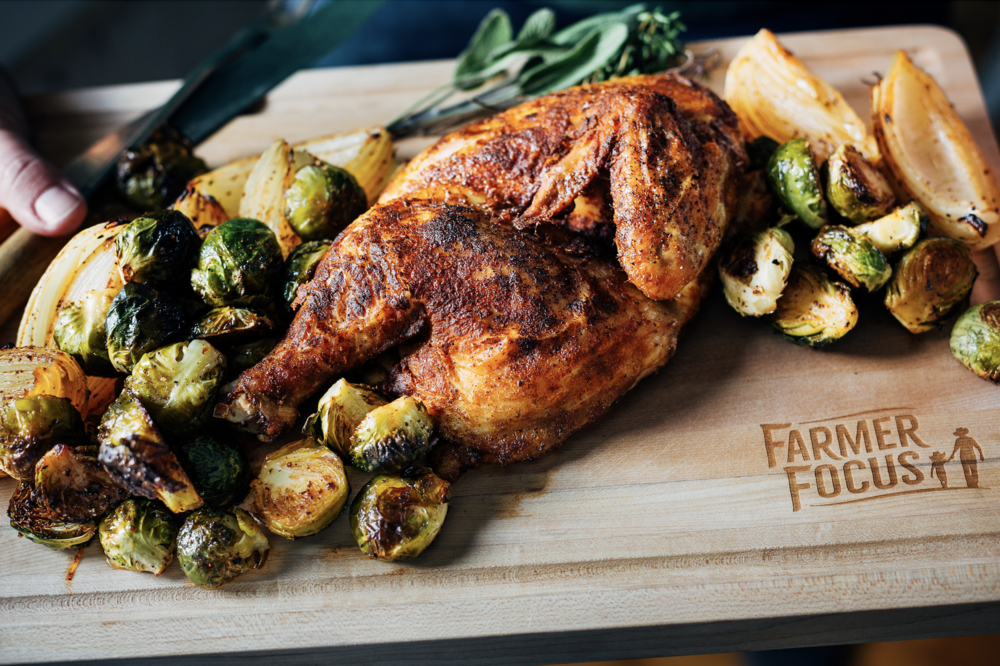 INGREDIENTS
Chicken and Vegetables
Brussels sprouts

10 ounces Brussels sprouts, ends trimmed (and halved if sprouts are larger than 2-inches)

1 large yellow onion

trimmed with core in tact, and cut into quarters or eighths

1 tablespoon extra virgin olive oil

½ teaspoon sea salt

¼ teaspoon ground black pepper

¼ teaspoon chipotle chili powder

1 Farmer Focus Toast Lager Pre-Seasoned Half Chicken
Gravy
2 tablespoons unsalted butter

¼ cup all-purpose flour

Sea salt and pepper

4 cup chicken broth

(homemade or store bought)
---
FEATURED PRODUCTS
INSTRUCTIONS
Preheat oven to 425 degrees F.

Toss the sprouts and onions with 1 tablespoon olive oil, sea salt, pepper, chili powder, and spread out on a large rimmed baking sheet.

Place the half chicken in the center. Drizzle just a bit of olive oil over the chicken and vegetables.

Roast for 20 minutes, flip vegetables, and then roast until the internal temperature reaches 165 degrees F, about 15 – 20 minutes longer.

Meanwhile, melt the butter in a large saucepan over medium heat. Whisk in the flour and let the mixture darken and thicken (add a splash of broth to loosen the butter as needed).

Whisking frequently, slowly add the broth a little at a time; allow the mixture to thicken up again before adding more. Edge heat down if the gravy starts to pop and bubble. Once you've added all the broth, turn heat to the lowest setting and cook 20 minutes, stirring frequently. Gravy will continue to thicken as it warms. *Add more broth, or white wine, to thin the gravy as needed.

When chicken is ready, remove chicken and vegetables to a cutting board. Mince one of the onion wedges and fold into the gravy. Scrape all the pan drippings into the gravy and stir.

Carve the chicken, and serve alongside the roasted vegetables, gravy, and other sides like mashed potatoes, mac and cheese, and salad.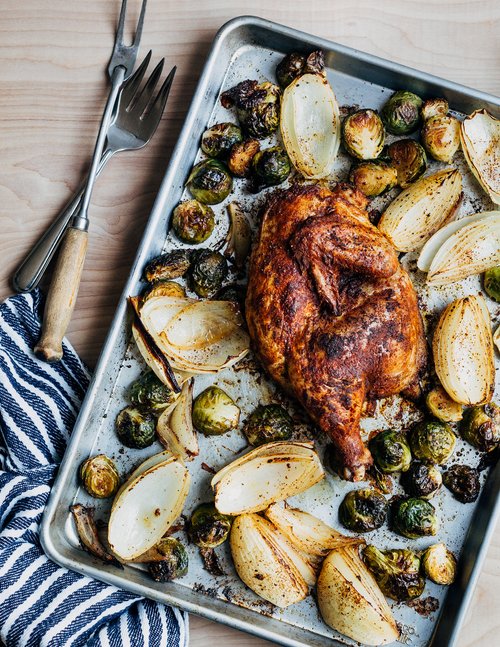 Farmer Focus chicken breast
Notes
This entire recipe can easily be doubled – just use a second baking sheet and stagger them in the oven. If you'd just like to make 2 chicken halves, set the second chicken on a smaller rimmed baking sheet and roast alongside the other baking sheet.
MORE FROM Brooklyn Supper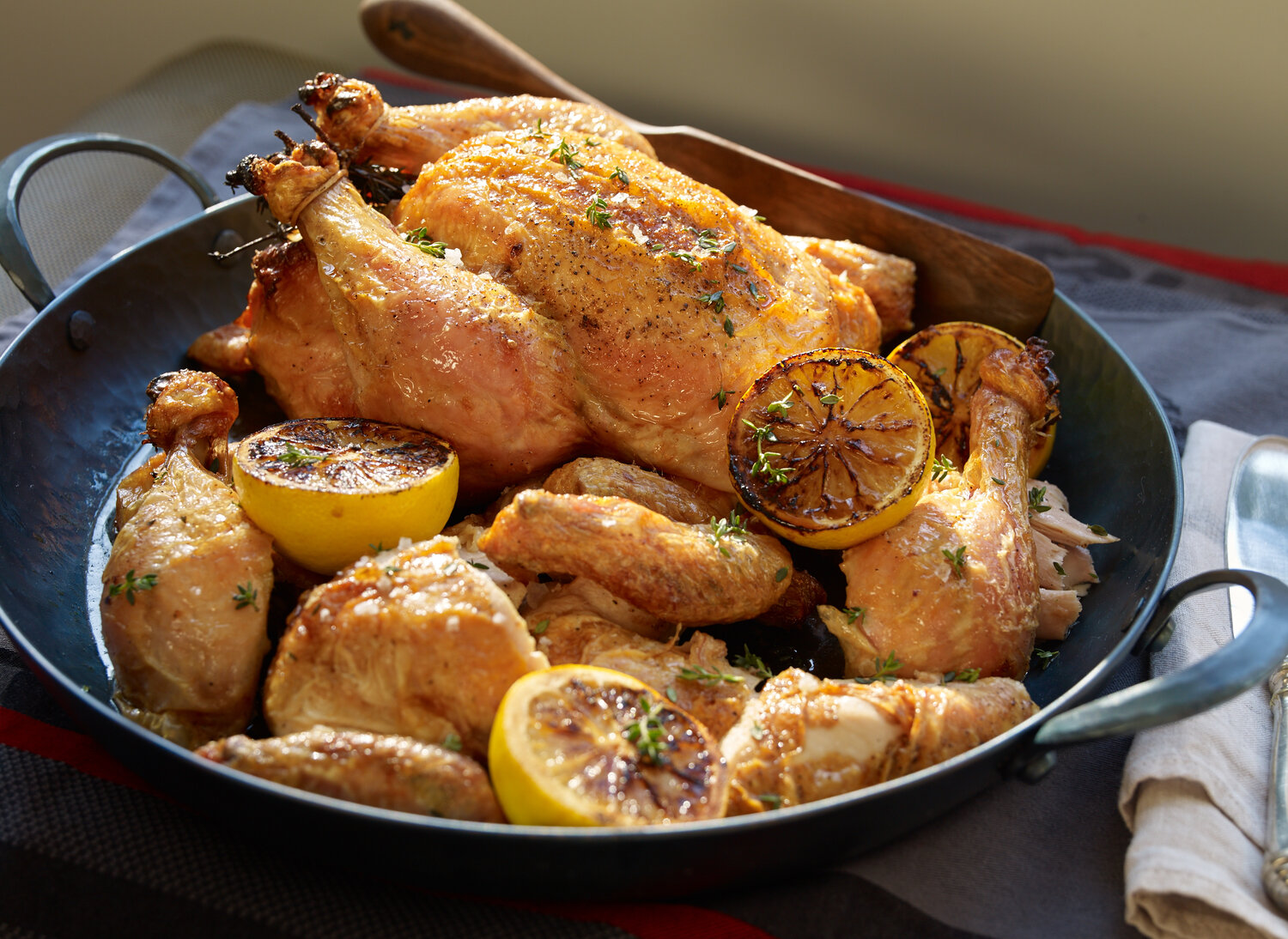 Recipe developed by Chef Michael Symon exclusively for Farmer Focus! Print Recipe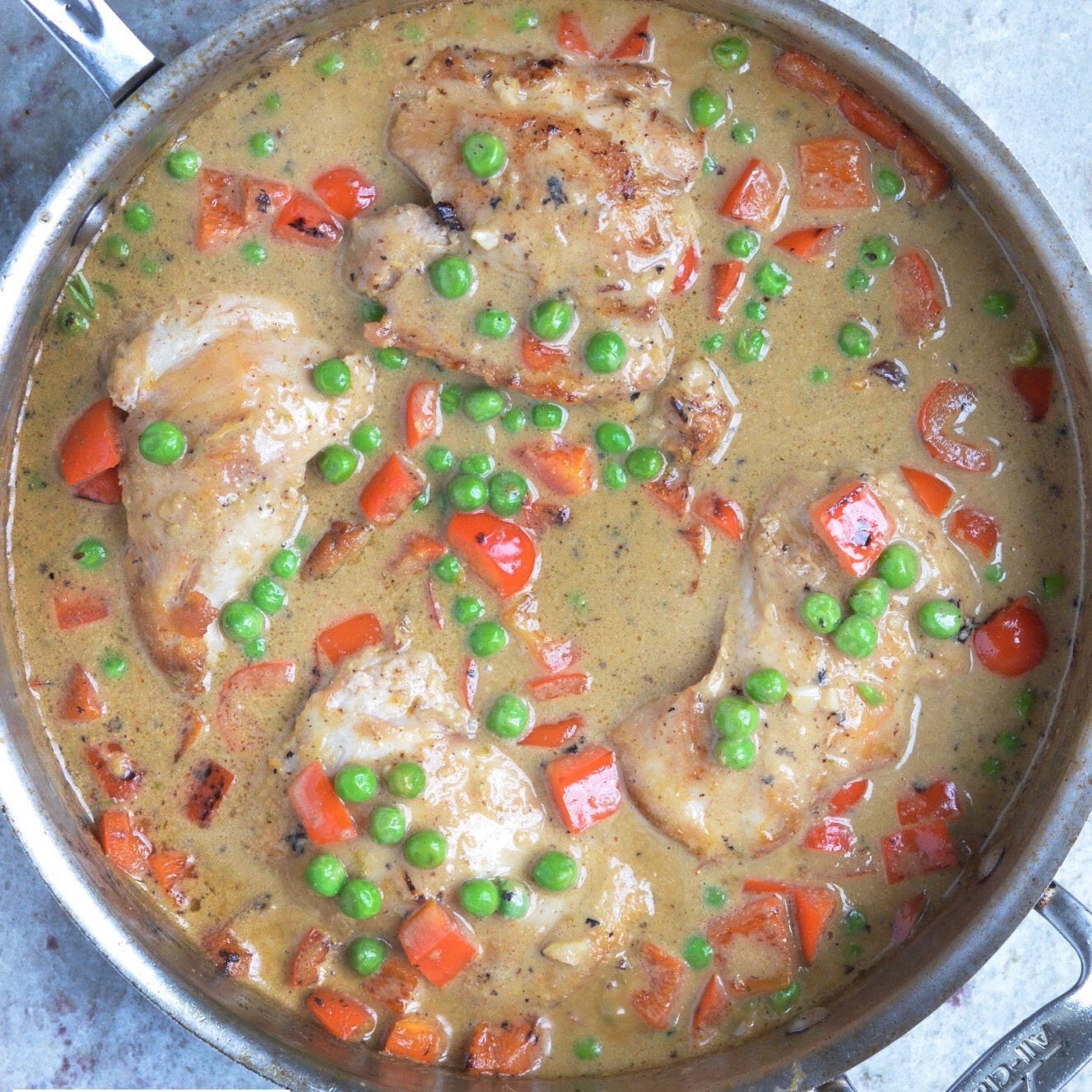 Developed by Lisa Leake exclusively for Farmer Focus! "Easy one-dish dinner that's allergy-friendly! It's dairy-free and, if you use gluten-free soy sauce, also gluten-free. Plus, you can make it all in one pan, and it's great leftover."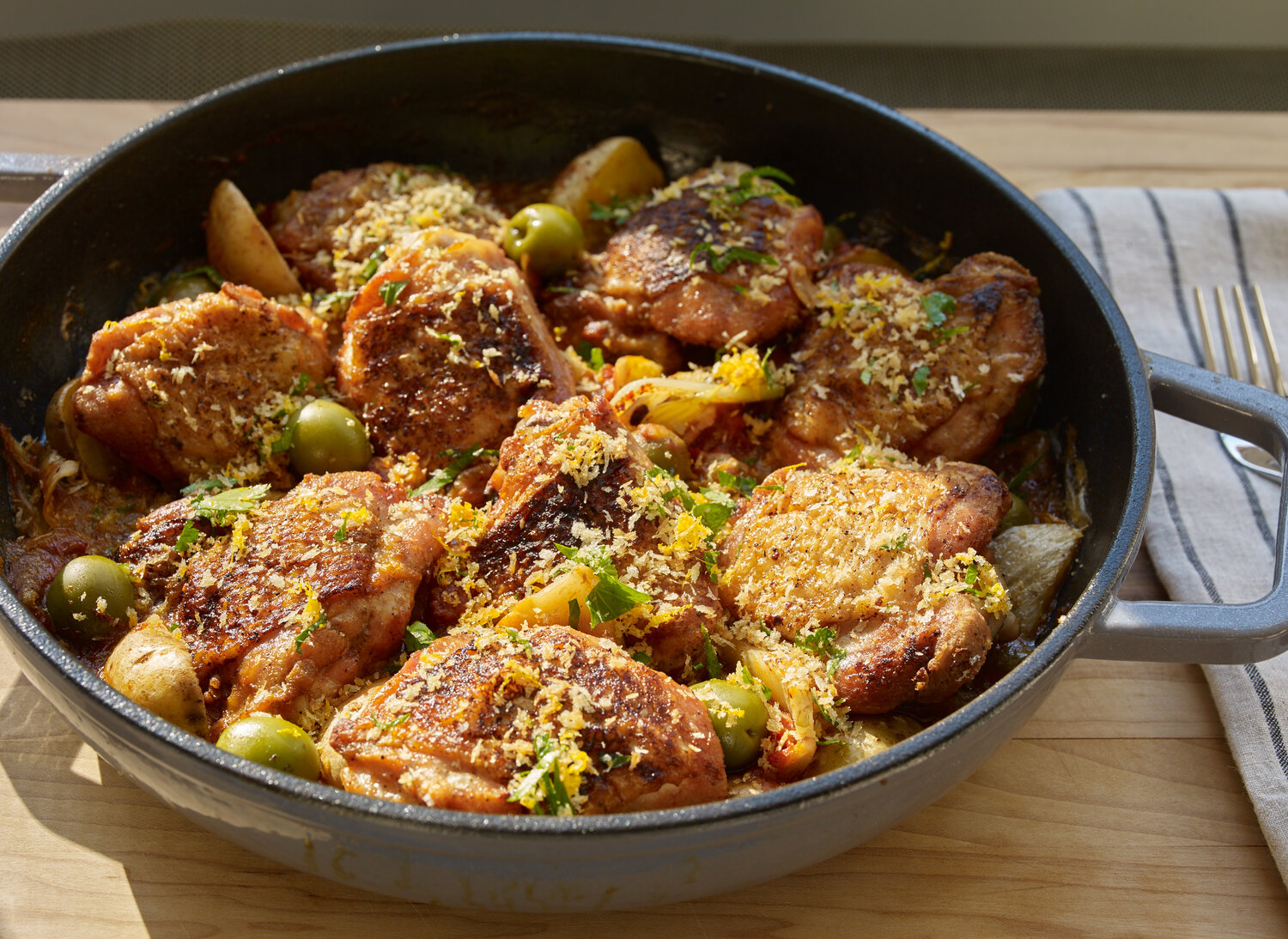 Recipe developed by Chef Michael Symon exclusively for Farmer Focus! Print Recipe